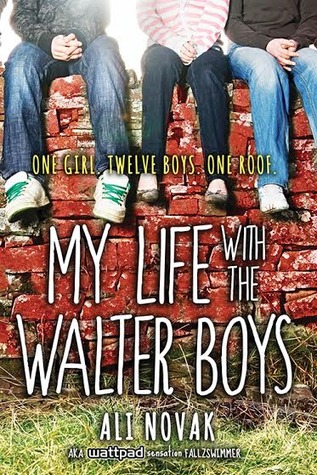 Summary from Goodreads:
My Life with the Walter Boys centers on the prim, proper, and always perfect Jackie Howard. When her world is turned upside down by tragedy, Jackie must learn to cut loose and be part of a family again.
Jackie does not like surprises. Chaos is the enemy! The best way to get her successful, busy parents to notice her is to be perfect. The perfect look, the perfect grades-the perfect daughter. And then...
Surprise #1: Jackie's family dies in a freak car accident.
Surprise #2: Jackie has to move cross-country to live with the Walters-her new guardians.
Surprise #3: The Walters have twelve sons. (Well, eleven, but Parker acts like a boy anyway)
Now Jackie must trade in her Type A personality and New York City apartment for a Colorado ranch and all the wild Walter boys who come with it. Jackie is surrounded by the enemy-loud, dirty, annoying boys who have no concept of personal space. Okay, several of the oldest guys are flat-out gorgeous. But still annoying. She's not stuck-up or boring-no matter what they say. But proving it is another matter. How can she fit in and move on when she needs to keep her parents' memory alive by living up to the promise of perfect?
My Review:
I picked up this fun contemporary because I wanted to see what a published from the internet novel looked liked (because I want to do the same thing) and I enjoyed it more than I thought I would.
The plot/world was okay, but it felt like a lot more could have happened (like flashbacks to the parents/sister) and some of the mean characters were over the top.
However, I did enjoy the characters that Novak came up with, mainly Alex (who I wanted Jackie to end up with) and Jackie, plus a few more of the family members. The whole idea of moving in with a huge family far from home after losing your own is terrifying and Novak did a great job of describing that.
I recommend checking out this book, the ending is a bit open-ended, but hopefully that means a second novel is on the way.
My Rating:
Four Stars Out of Five