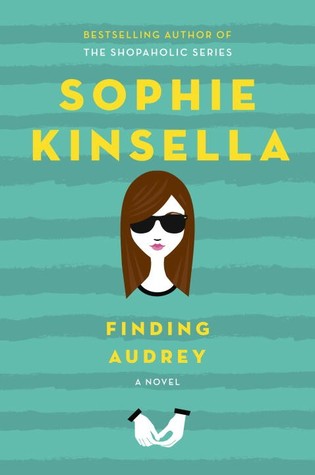 Summary from Goodreads:
From the #1 New York Times bestselling author of the Shopaholic series comes a terrific blend of comedy, romance, and psychological recovery in a contemporary YA novel sure to inspire and entertain.

An anxiety disorder disrupts fourteen-year-old Audrey's daily life. She has been making slow but steady progress with Dr. Sarah, but when Audrey meets Linus, her brother's gaming teammate, she is energized. She connects with him. Audrey can talk through her fears with Linus in a way she's never been able to do with anyone before. As their friendship deepens and her recovery gains momentum, a sweet romantic connection develops, one that helps not just Audrey but also her entire family
My Review:
I'm a huge fan of her shopaholic series and can't wait to read more of her adult novels. I knew that I had to grab this one when it came out and I did the right thing. This is Kinsella's first time writing a contemporary YA novel and she blew it out of the park.
I loved the fact that she wrote about mental illness a serious topic because she tends to be more of a humor/fluffy author. It was great to her tackle a new deeper subject, and she did a great job mixing in the humor without losing any respect for the mental illness that a lot of people suffer with.
I gave it a four star rating because it was tad unbelievable about Audrey's recovery from anxiety/depression, however, she did explain and display it really well. I also wished that we knew the event that pushed Audrey into her depression and social anxiety.
I recommend checking this out even if you do not care for her adult novels.
My Rating:
Four Stars Out of Five