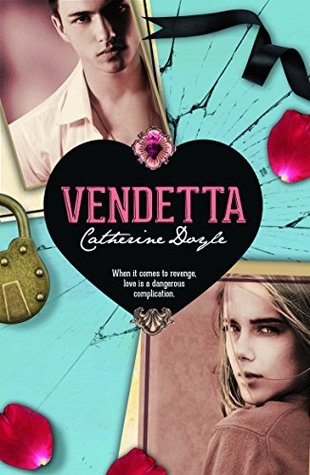 Summary from Goodreads:
When it comes to revenge, love is a dangerous complication.With a fierce rivalry raging between two warring families, falling in love is the deadliest thing Sophie could do. An epic debut set outside modern-day Chicago.

When five brothers move into the abandoned mansion in her neighbourhood, Sophie Gracewell's life changes forever. Irresistibly drawn to bad boy Nicoli, Sophie finds herself falling into a criminal underworld governed by powerful families. As the boys' dark secrets begin to come to light, Sophie is confronted with stinging truths about her own family, too. She must choose between two warring dynasties - the one she was born into, and the one she is falling in love with. When she does, blood will spill and hearts will break.
My Review:
I managed to get this off of Edelweiss (after the release date) and finally got around to reading it. I flew through this novel, it only took me two days to read it.
This is the first retelling of Romeo and Juliet (besides Juliet Redeemed) that I really enjoyed and I want another novel so badly. And it is like Romeo and Juliet, but I liked the fact that it was not a totally retelling of the play, I enjoyed the changes to the classic story.
The main character Sophie was very relatable, which for me makes the novel go faster. Plus, the side characters, the Falcone brothers and Sophie's family were great as well. I'm still not sure who I want together, Nic is okay but I love Luca (who does not seem to be the Romeo in the story). It does seem like a love triangle is going to happen in the next novel, but it does not seem to bother me.
I recommend checking this out if you want a quick and interesting read.
My Rating:
Four Stars Out of Five